SAM Corporate, Middle East experts for EPM, solutions, services, advisory, and implementation, is hosting a webinar discussing the latest trends in the insurance industry. The speakers will take a closer look at the shifting insurance market and how insurers can digitally transform and prepare for the future.
Is Your Tech Strategy Insured?
Alexander Solomonov, Partner and VP for Business development at Adacta, Adreas Simon, Director MEA at Jedox, and Erwin Van Dixhoorn, Managing Director at cleversoft supervisory reporting, will discuss the state and the future of the insurance market, trends, and the ways they might affect the market. Additionally, Alexander will touch upon the role of technology and the modernisation of the insurance IT landscape and ways the award-winning AdInsure platform can help with it:
How to improve business agility and time to market for the new products and business ideas, improve sales and market penetration.
How to digitalise insurance processes to offer better and faster service to the end customers.
How to replace the legacy systems with a modern, open and flexible platform, reduce the support needed and optimize budgets.
Join the free webinar on Wednesday, 15 June, at 4 p.m. GST.
Register here
.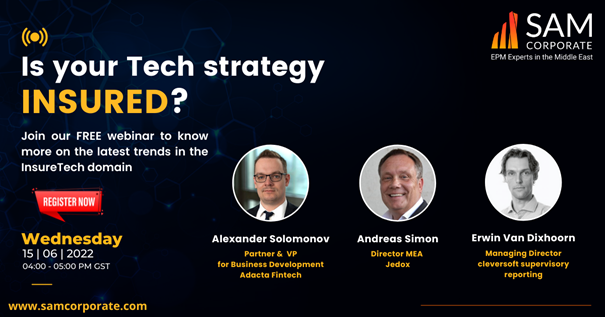 About Adacta
Adacta is a leading software provider for the insurance industry. Its insurance platform – AdInsure – provides Life and P&C insurers with a future-proof way to streamline their operations and processes. Since 1989, Adacta has spent decades helping insurance organizations grow their digital capabilities and drive increased profit. Their mission is simple: Empower tomorrow's industry leaders to realise their potential through technology.
About AdInsure
The AdInsure insurance platform is the digital foundation your business needs to keep up with industry changes. It connects and supports all your teams, helping you work smarter, launch products faster, and provide modern customer experiences.