Miha Frlec is no stranger to Adacta. He was working for Adacta before the company even had its first office, and he never left, always driving the company forward with his dedication to excellence in everything he does. He is an avid diver, an instructor trainer who looks for solitude underwater in the world's remotest and most beautiful places. Read on for a glimpse into his attitudes toward life and success.

Can you please explain how you started working at Adacta?

I am a physicist by education, and I met two of the three Adacta founders during my high school and university years. I started working for Adacta even before we had our first office! Today, I manage the part of the company responsible for banking and other financial solutions, which is the part that doesn't cover insurance.

You have been with the company for more than 30 years. How did you begin, and how did you progress?

I started as a developer and later a project manager, two roles I kept for quite a long time. The first solutions I worked on were CAD and GIS systems and phonebooks for Telekom Slovenije. These were soon followed by various banking projects, first NLB and followed by Banka Koper, now known as Intesa Sanpaolo. I was promoted into management and became a partner in 2004.

How has Adacta changed since its early days?

Although the concept didn't even exist back then, we launched as a student start-up, one of the first in former Yugoslavia. We worked enthusiastically and believed in success even though we had difficulty winning projects as a small and unknown company. However, with time everything became more manageable, and we grew and became more recognisable. Today Adacta is a mature international company with constant growth and enviable achievements under our belt today. The main differences can be seen in operations, streamlined processes, and excellent work conditions.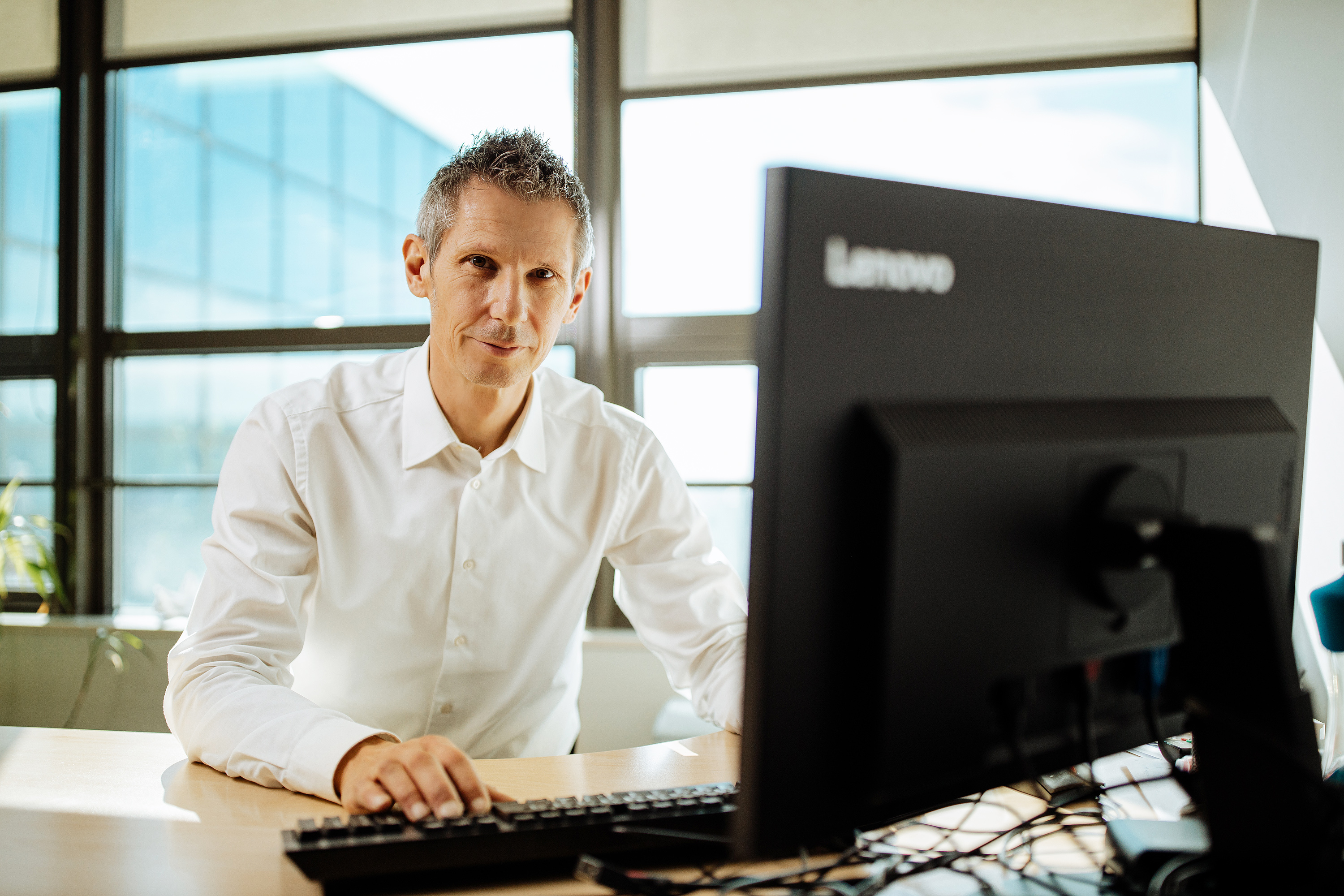 »Adacta's main asset is us - the people working for the company and being devoted to the idea that we are creating something new, something unique.«
What do you see as the key milestones in the company's history?

The first milestone was, I think, the phonebook we developed for Telekom Slovenije. It was our first project for a major client and the most significant project we'd ever worked on up to then. This was the first thing we did that resembled a product, and we went on to sell similar solutions in Austria, Hungary, and Serbia.
The second milestone was our banking project for NLB. This was the first digital banking platform but received less media exposure than similar solutions back then. However, for Adacta, it was the first project where we used a relational database, which was rare at the time, particularly in the world of PCs. This ambitious project gave us the knowledge and experience to start working for other banks.
The third milestone was our implementation of AdInsure in Zavarovalnica Triglav. While not the first AdInsure implementation, it was the first AdInsure project rolled out in an international environment across all Zavarovalnica Triglav subsidiaries abroad.
Let us turn to the future. Where do you see Adacta developing in the coming years? The investment is opening new opportunities.

Three things are essential to Adacta's future development. The first is constant investment in AdInsure as a product. The second is our ability to expand our implementation partner network to scale our business. The third is the support from our new owner as we start selling and establish our footprint in Western markets. Last but not least for a company like Adacta its main asset is us, the people working for the company and being devoted to the idea that we are creating something new, something unique.

You are an enthusiastic diver and an instructor in a very demanding course. What draws you to this sport? Does your discipline from diving and business translate to all areas of your life?

In contrast to my fast-paced and sometimes hectic daily and professional life, diving is relaxing and offers tranquillity and unique experiences. I could say that diving is moving and exploring in almost zero gravity. Everything is happening very slowly and is sometimes a substitute for meditation for me. Yes. Although training diving instructors differ from teaching diving, the same ideas apply to both. I attempt to be disciplined in all aspects of my life, but I do not always succeed.

What is your favourite diving location?

I would highlight two, both of which have in common that they are remote. This means there are not many people there and very few divers. The first one is Raja Ampat in West Papua, and the other is Soccoro Island off the Mexican coast in the Pacific.

Do you have any other hobbies?

I have several: mountaineering, ski touring, and photography, to mention just a few.

Would you share a recent (underwater) photo you're most proud of? Tell us a bit about it.

It's not really a very special photo, but it tells quite a lot about the sport as it is not just diving in clear warm tropical waters but also in conditions like these. The photos were taken just before the lockdown in 2020 during a training dive in lake Bohinj with air temperature around zero and water around three degrees.

How do you find the work/life balance?

I maintain the balance by simply taking the time for myself and the activities I love. However, work and private life are indeed intertwined as I often share my free time with people from work or use it for the job.


»I believe the company culture is shaped by the fundamental values we promote and encourage. I value two: knowledge and loyalty. These are the two characteristics I look for in the people I work with.«
How does your diving philosophy influence your work at Adacta?

Diving taught me two vital lessons. The first is to always take a thoughtful approach to any problem I am trying to solve. The second lesson is the importance of self-improvement. The latter generates many personality characteristics that come in very handy in my professional life.

Your advice for people starting in Adacta - what should they focus on professionally and personally?

Hmm, this is a tricky one. Professionally two things are important: you must love or at least like what you do, and secondly, you must keep learning new things all the time. Personally, find a balance in whatever is important to you.

As a partner, how do you shape the company culture, and what do you value in your colleagues?

I believe the company culture is shaped by the fundamental values we promote and encourage. I value two: knowledge and loyalty. These are the two characteristics I look for in the people I work with.

Where do you see yourself in five or ten years?

We have already trusted the most important management positions in the company to younger colleagues. I hope that over the next decade, I will be able to share my experience with the next generation and help shape the future of Adacta in those areas where my skills will be useful.