Adacta, a leading insurance software provider, announced today that the money raised through its new initiative of replacing holiday corporate gifts with a charity donation will go to the Centre IRIS – Centre for Education, Rehabilitation, Inclusion and Counselling for the Blind and Partially Sighted. The donation will provide the centre with 8 sets of TactiPads, which are versatile drawing boards that enable visually impaired persons to create tactile drawings.

The Centre IRIS is an institution of national importance as the only public institution in Slovenia working in the field of education of children and young people with visual impairment, including those with multiple disabilities, from pre-school to the end of secondary education level.
Peter Rot, mobile teacher - typhlopedagogue at the IRIS Center.
"Every day, I meet children across Slovenia who participate in regular school programs. Most of them are very successful learners with a great willingness to learn. However, drawing is a special chapter when it comes to working with blind students and mostly we replace drawing with descriptions of drawings. But when it comes to drawing geometrical shapes, mathematical functions, the composition of molecules, magnitude and direction of forces in space, vector drawings, technical drawings (front, top, and side view), weather or mathematical graphs, these drawings cannot be replaced by descriptions without losing the essence of what we are trying to teach. I would like to thank Adacta and their clients for providing our students with special TactiPad geometric drawing boards that will facilitate their schooling, particularly math instruction."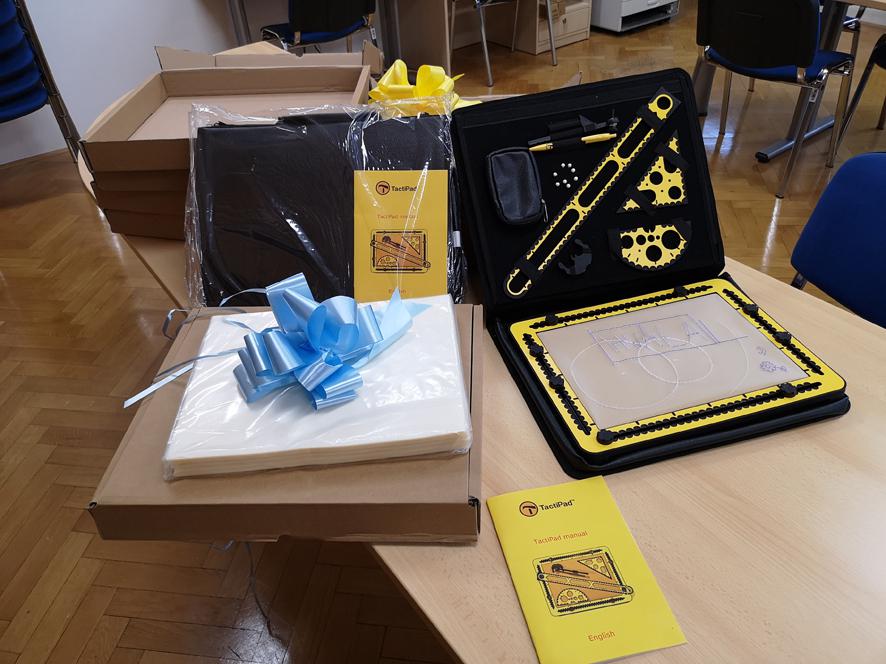 As part of its commitment to making a positive impact in local communities, Adacta supports institutions focused on educating children and youth. The initiative to donate the money to charity instead of buying corporate gifts was inspired by this year's unprecedented events.
Boris Bajic, CEO of Adacta, explained:
"If there was one major lesson, we were able to take from 2020 it is to not take anything for granted, especially every-day habits and life's gifts we are all accustomed to. In this time of giving, instead of our traditional corporate presents to clients and partners, we have opted for a bit different approach this year. With this regard, I sincerely hope that our presents will bring joy and make the learning process easier for the blind and partially sighted children."