Martin Pruška has the coolest job title on his LinkedIn profile – Problem Solver. That means that he goes wherever he is needed to help solve problems for his colleagues and Adacta's clients. This designer-turned-developer from Brno loves how flexible his position is so that it allows him to travel and work remotely to accommodate his other passion – surfing. With Martin, you're never sure, whether he's sitting in Spain or Brno while working on a problem with you.
Read about his career journey, the challenges he has worked on and what he likes about working at Adacta. He also shares his advice for people just starting in the industry and tells how his designer training comes in handy in his current job.
When did you first realize you want to be a developer?
To be honest, when I was younger I wanted to go either to art or graphic design school. After finishing grammar school, I did not get into art school, but I did get into a computer graphic at our IT university, which is more technical. From there I moved towards development.
Do you remember your first software development project?
We worked in C# and were learning about developing desktop apps, so I developed a Sokoban clone for my project over the semester. You know, the game, where you move the crates or rocks around?
I know it. Do you still play it sometimes?
No, not anymore. (laughter)
What thrills you about software development?
I like the idea that you are writing code, which is writing some words and text, which then creates applications with a UI and useful functionalities. To me, that's amazing and almost magic.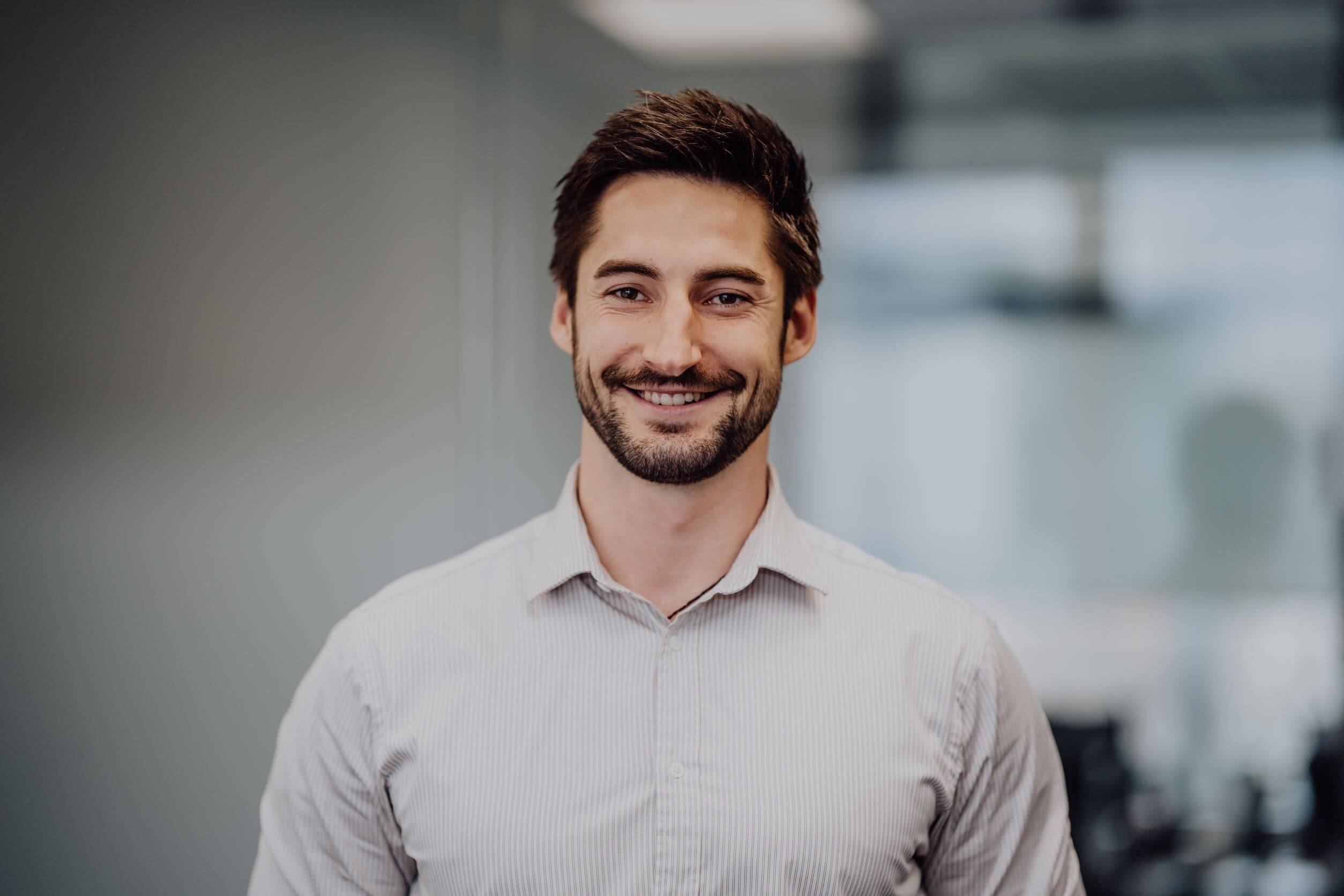 How did you find your way to Adacta?
During my master's degree studies, I started working. I was with another company for about a year before I started looking for something else, which was when I found Adacta.
I began in 2016, about six months after Adacta opened its office in Brno. There were only five of us. I started as a programmer and was working on some functionalities for the core system. The funny thing is that at my first employment interview I told Beno (Benjamin Levstek, head of the Brno office) I have the ambition to become a team lead or a project manager in the future. He told me that something like that is definitely possible but that I cannot expect to become a team lead in six months. As it happened, Beno decided to move an implementation project to the Czech republic and I became the manager for the project within six months. I did not expect that. (laughter)
Your job title is a Problem Solver. What does that mean?
I travel a lot and I am out of the office quite often. I am not a permanent part of any team and Beno uses me whenever he needs someone working on a specific project. You know, it's sometimes hard to take people from a team, because they already have their work planned and they have responsibilities. Since I am not in any team, he can send me to work on any project and that is why he calls me a problem solver. During my time at Adacta I worked on a lot of things, including programming, project management, team leading, contacts with clients, and different AdInsure teams developing AdInsure modules.
What is the most interesting or challenging problem you had to solve in the last year?
We were working on some UI changes in AdInsure, which was incredibly fun for me, although it might not seem like anything special at first glance. But from the other side of the world, far away from the office, even a simple thing can become quite challenging. I know travelling and remote work seem romantic in pictures. So cool, right?

However, the reality is usually completely different. Sometimes, it comes with strings attached, especially when you are on a tight schedule and disconnected from your team. The greatest challenge for me is to find the perfect balance to ensure that the quality of my work is consistent, regardless of the circumstances I work in, which unfortunately aren't always perfect. You don't have these kinds of struggles while working from the office but then again, you also can't see a perfect sunset on the beach.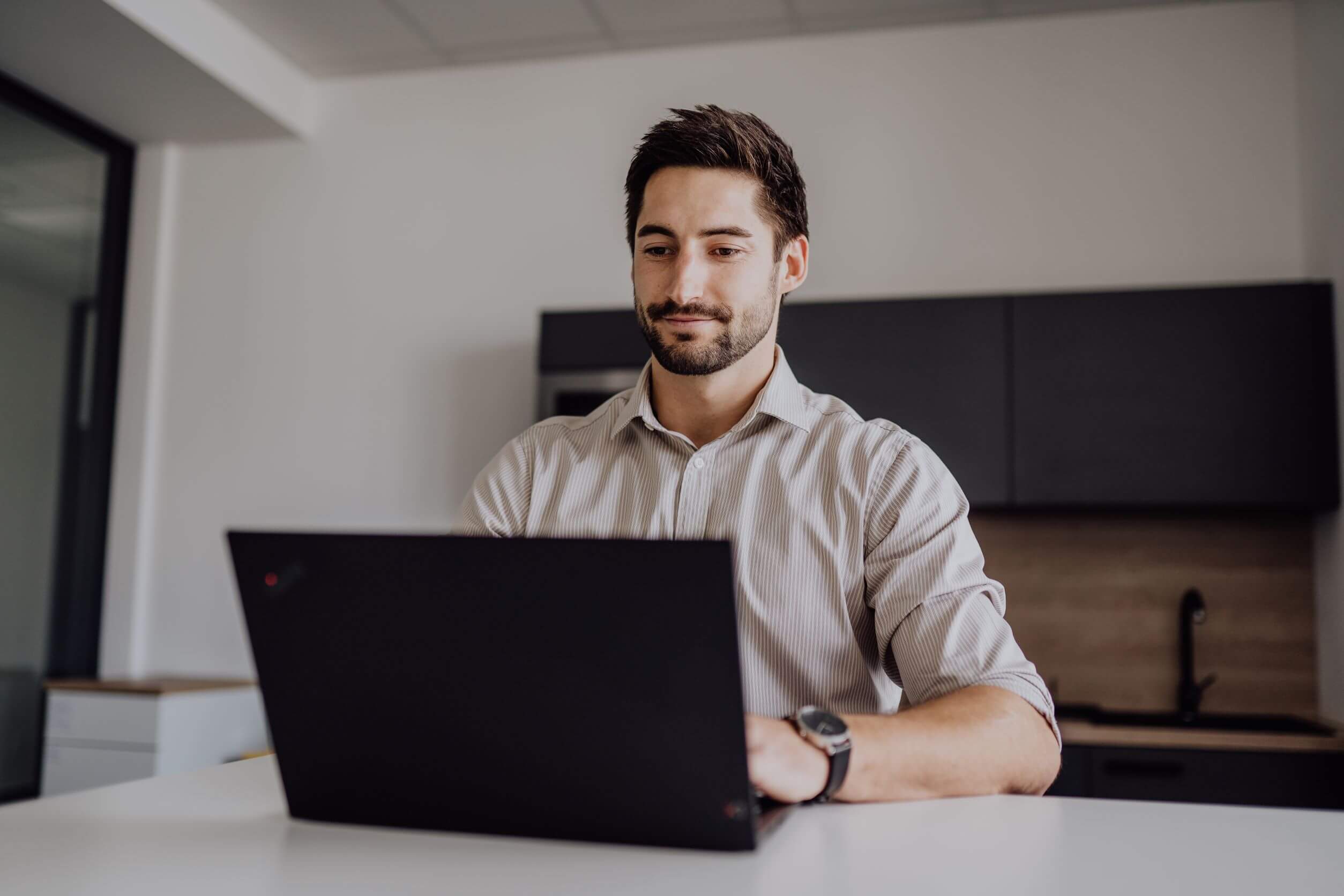 »The last thing I really like is the opportunity to work remotely, so if I want to be somewhere else for a longer period, I can do that. I like surfing and I like to work somewhere near the ocean, so I can surf.«
What are the reasons you like your job?
One of the reasons I am happy here is Beno. I had a really good feeling about him and I wanted to start working in a small office. I really felt he would be a good leader and mentor and my experience over the years confirmed my feelings. Another thing I like is the atmosphere here in Brno. It feels just like having a second family and Beno is working hard to make it a pleasant environment.
The last thing I really like is the opportunity to work remotely, so if I want to be somewhere else for a longer period, I can do that. I like surfing and I like to work somewhere near the ocean, so I can surf. If possible, I try to do some surfing in the morning or the afternoon while I work. This is one of the main benefits for me.
What advice would you have for someone new to the industry?
You should realise early on what you want to do. IT is a huge field and you have many directions you can go into. You could go into backend development, databases, programming computer games, making web pages and so on.
Once you know your direction, you should start learning about the technology and focus on your area. But it is also good to have a broader perspective and keep your curiosity and appetite for learning things. The industry is moving so fast, you need to keep pace. For example, you shouldn't get stuck with the programming language you first learned and shouldn't worry about changing it. You should be ready to learn another language if you are working on a project that demands it. Actually, that's true for all parts of the industry - you should embrace change.