"There is no doubt that the COVID-19 pandemic that has unfolded around the world also has an unprecedented impact on the insurance industry," writes Digital Insurance Agenda in its latest whitepaper discussing the impact of COVID-19 on the speed of digital transformation in insurance.

"A common reflex is to cut costs and postpone investments and put digital transformation programs on hold. We believe there are ample reasons to do exactly the opposite. Fortunately, we see more and more insurers who agree, accelerate their digital transformation, and acknowledge the importance of involving insurtechs in this journey," reads the 50-page paper as it highlights the types of insurance solutions becoming more relevant than ever, among them Adacta`s AdInsure Agent Portal.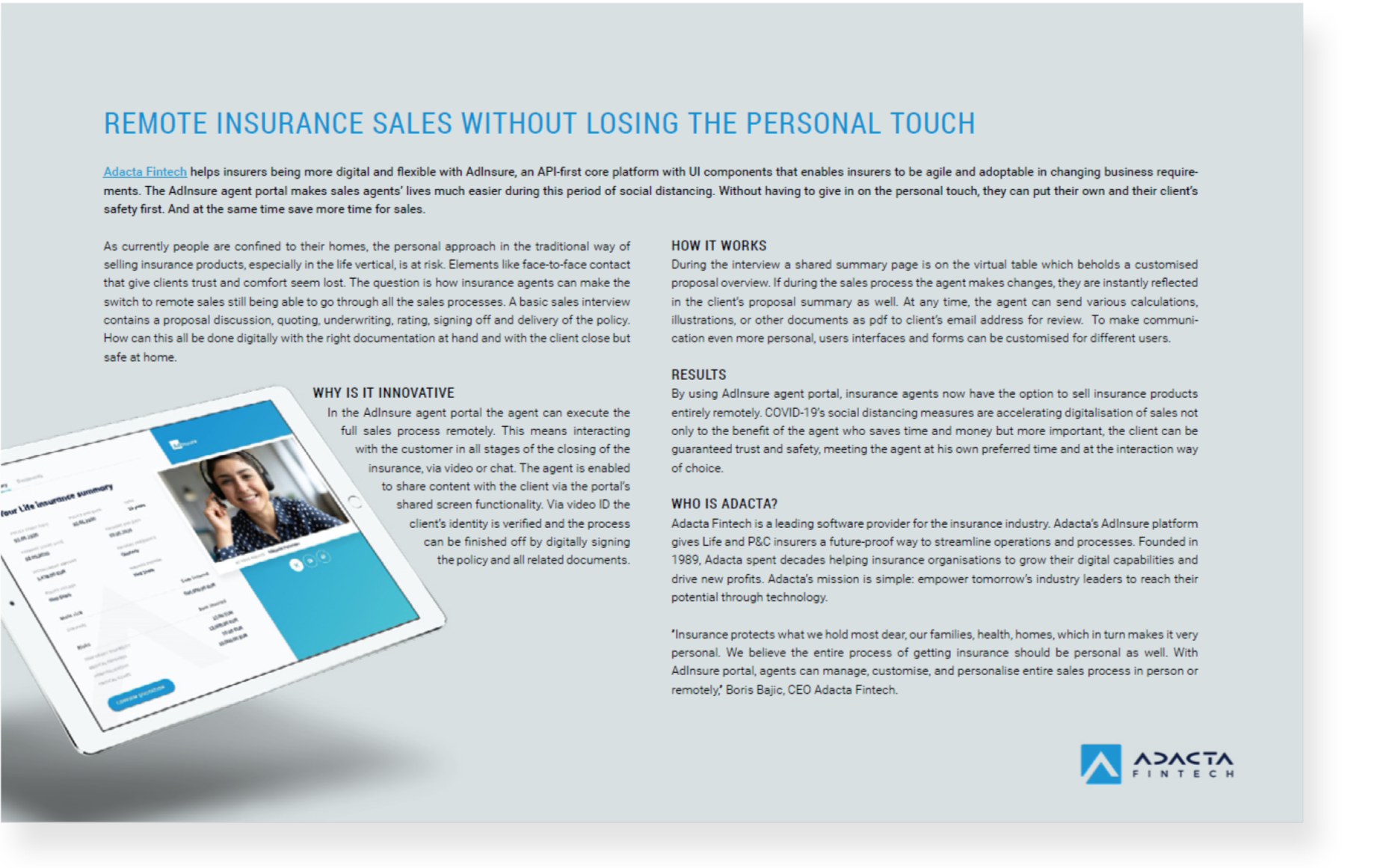 Featured on page 35, AdInsure Agent Portal offers a solution for insurance agents facing the challenges of social distancing. As remote work becomes the new normal for people around the world, AdInsure Agent Portal delivers a relevant solution for the post-pandemic world as well. Selling insurance remotely using a guided process without losing the personal touch allows agents to make the most out of their time as well as reach out and engage with the younger, digital-first generations.
The whitepaper feature concludes with a quote by Boris Bajic, CEO of Adacta:
"Insurance protects what we hold most dear, our families, health, and homes, which in turn makes it very personal. We believe the entire process of getting insurance should be personal as well. With AdInsure Agent Portal, agents can manage, customise, and personalise the entire sales process in person or remotely."