Like other financial services firms, insurers are highly dependent upon technology. But their core systems are aging rapidly and causing significant challenges, such as expensive maintenance, reduced flexibility due to the robust configuration environments, reduced agility needed to meet rapid market changes, difficulty in connecting and integrating legacy systems with modern applications, difficulty in leveraging structured data and the inability to enable a shift from financial aspects of the claims to the customer service aspect, to name just a few.

In the light of these challenges, more than half of the insurance carriers are engaged in some level of replacement of the claims administration system in the current year – according to the current Celent report Claims, systems, vendors for EMEA P&C Insurance, published in October 2017. The report is a must-read for any insurer in the EMEA seeking a new core claims system since it offers a general overview of 17 vendors as well as their profiles based on technology, functionality and customer recommendations.
Celent Report evaluates Adacta's core solution AdInsure as one of the best solutions in the EMEA region
Among the 17 vendors offering core solutions for insurance companies, Adacta's AdInsure core system is included in the ABCD Vendor View and achieves great rankings for the functionality set offered and advanced technology used. According to Celent:
"Adacta is a strong vendor ... offering a Windows 10 compatible, Azure-capable modern system with strong functionality and great customer references."
Source: Celent Report EMEA: Claims, Systems, Vendors, P&C Insurance (October 2017)
Customer feedback for AdInsure showed customer evaluated configurability of the system and workflow functionality as the two of the system's most outstanding functionalities. Alongside good references of AdInsure, customers rated Adacta with remarks as "high commitment", "good service" and "good communication skills".
Figure 1: Advanced Technology and Breadth of Functionality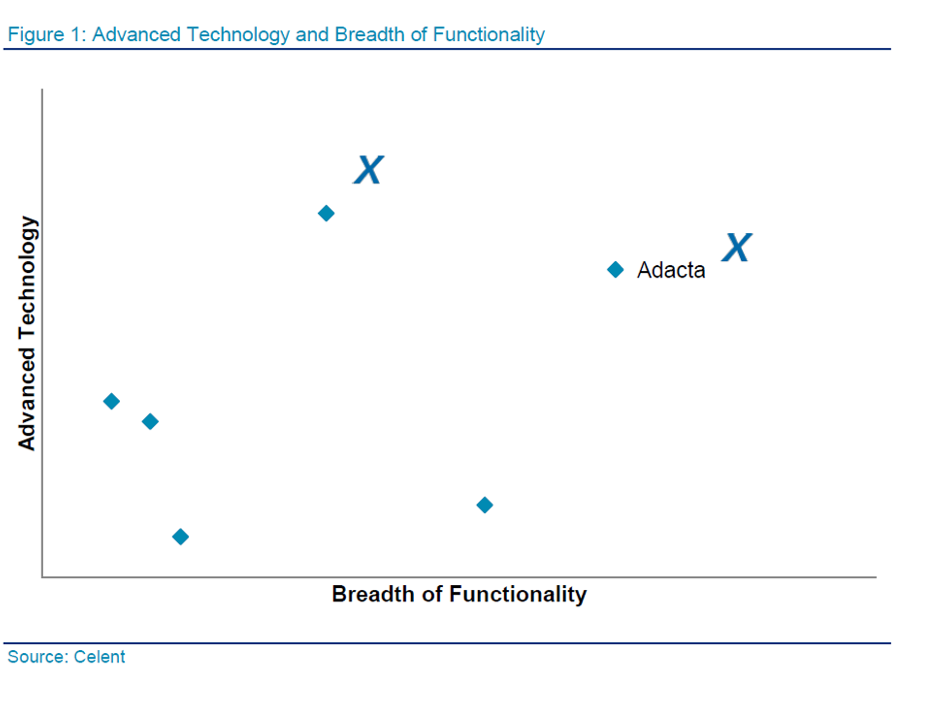 Source: Celent Report EMEA: Claims, Systems, Vendors, P&C Insurance (October 2017)

Figure 2: Customer Feedback for AdInsure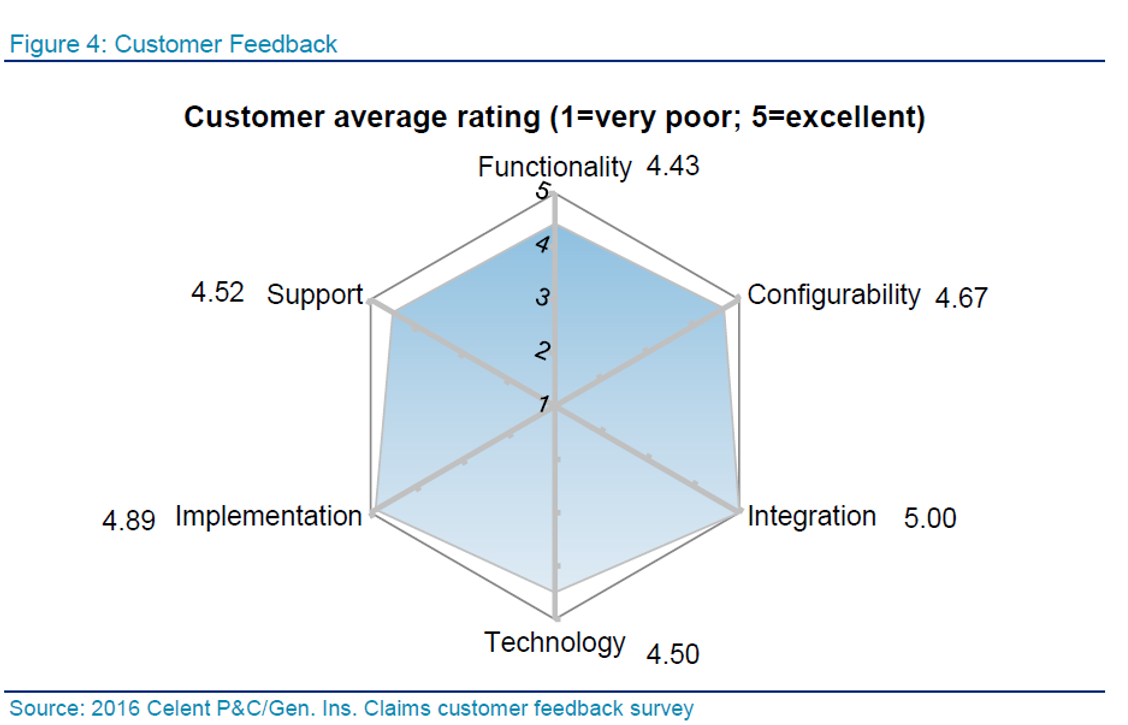 Source: Celent Report EMEA: Claims, Systems, Vendors, P&C Insurance (October 2017)
About Celent Report and methodology
The current Celent report provides an overview of 17 core claims solutions available in EMEA for general insurers, non-life insurers and property and casualty insurers. The report offers a general overview of the functionality of each solution and profiles solutions according to the key capabilities such as customer base, lines of business supported, the technology used, implementations, pricing and support providers' offers.
The final profiling is included in the "ABCD Vendor View", which offers a final overview of the included solutions that are supported by customer references and Celent's opinion of the solution. ABCD stands for the methodology used for the profiling: Advanced and agile technology, Breadth of functionality, Customer base and Depth of client services.
To be eligible to be included in the ABCD Vendor View, a core claims solution had to:
have at least one new sale to one new customer within the last 24 months in EMEA,

have at least 3 v customers in EMEA,

have completed at least 3 life insurance company reference customers.

Out of the 17 core solutions, only 8 were eligible to be included in the ABCD Vendor View and AdInsure, Adacta's core system for insurance companies, was among them.
About AdInsure
AdInsure, Adacta's flagship solution for insurance companies is the result of more than 10 years of work in developing solutions for insurance and financial industries. With one of the largest teams in the region that is dedicated to the insurance industry and comprises 170 FTEs and excellent industry recognition by Celent, Adacta is positioned among the leading providers of insurance solutions in the EMEA region. Adacta's insurance-related solutions are used in 22 companies in 10 countries.