AdInsure solution, developed by the Adacta's experts for insurance industry, thanks to innovative technologies combined with outstanding customer services, has been enclosed in the Top 10 Policy Administration Solution Providers for 2016, as gathered by "Insurance CIO Outlook" magazine.

The renowned business magazine "Insurance CIO Outlook", which through its editions provides an insight into the latest technologies developed for empowerment and improvement of the insurance industry, presented its annual Special Edition of 10 Policy Administration Solutions providers who are able to fulfill the need for cost-effective and flexible solution that will add value to the insurance industry.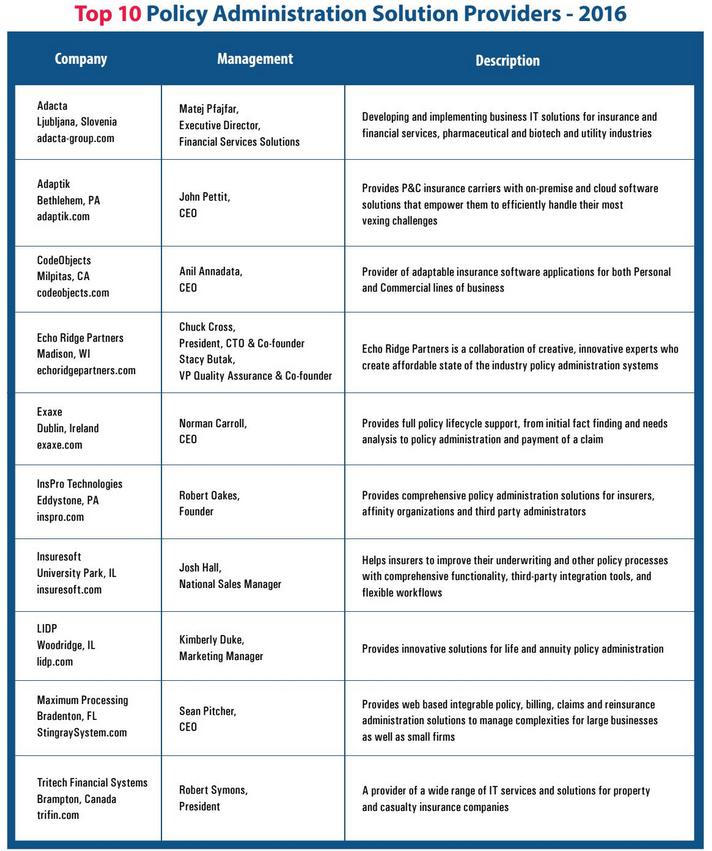 Image source: http://www.insuranceciooutlook.com/magazines/April/2016/
The April editorial of "Insurance CIO Outlook" stated that today's insurance industry is more than ever exposed to the changes and consolidations. Thus, it has become of vital importance for all companies on the insurance market to efficiently streamline business process. If the Policy Administration System (PAS) is not efficient enough, it might be a stumbling block for growth and development of insurance companies.
In order to help insurance companies adapt to market changes more efficiently, Adacta's regional team has been working on development and implementations of AdInsure solution for more than 10 years, as a reliable tool for information integration and synergistic management of sales, marketing, and customer services in the insurance industry.
In the interview for "Insurance CIO Outlook" magazine Mr. Matej Pfajfar, Executive Director for Financial Services Solutions in Adacta, emphasizes that the configuration capabilities of AdInsure provide robust flexibility by decreasing the total expense to the Adacta's clients.
That the quality is recognized worldwide, illustrates the fact that 19 insurance companies in 9 countries so far use Adacta's specially designed business solution for this type of industry.
However, Adacta goes a step further in the constant development and enrichment of AdInsure business solution by designing models for Customer Relationship Management and Business Intelligence (CRM & BI) for the insurance industry.
"We foresee the insurance industry embracing new approaches such as pay-per-use insurance, peer-to-peer underwriting, and bespoke products," emphasizes Pfajfar and adds: "Our plans also include major improvements to our product offering, setting up a global partnership network and expanding our market presence to become a truly global provider to the insurance industry."
The whole interview read HERE | Pages 16&17