Which series of fortunate events led you to start your internship at Adacta?
I was an Erasmus student at the University of Ljubljana and there was a careers fair event held at the school of Economics and Business in April, where I came across the company and eventually it piqued my interest enough to apply to do a 2-month internship. I decided to do it because I wanted to get real-world work experience, and also because it was an obligatory part of my course at my home university during the semester.
Was our job interview for the internship difficult? How did you prepare for it?
Honestly, the job interview was not at all difficult. All I did before attending the interview was to go through the company's profile and learn about it as much as was required. The rest was down to my confidence and formal approach.
It has already been a month but can you remember what your first day at Adacta was like?
My first day was pretty exciting. It all started with a warm welcome and on-boarding right after. They took me on an office tour, where I met my fellow team members in the Business Analysis department, the head of the team, and the boss. After that, I went with a few members of another group for Lunch, and then, my mentor assigned me my first task.
How much independence were you given and were you properly "phased–in" to increasing independence?
Absolutely. As I was an intern, I had to work after my classes and exams, yet I could manage to work due to the flexibility regarding time which was considered and given to me. Also, my mentor was very understanding regarding all my circumstances, so I could still carry out my flow of work.
What did you hope to achieve in the time you spent as an intern? / What was the best part of your internship experience?
The best part of my internship experience was the simultaneous feeling of both working in a corporate environment and being a student, as I managed to study and work at the same time.
Can you tell us a bit more about the team you were working in?
The team I was working with was very cooperative, kind and helpful. They really helped me whenever I had any queries. Our role at Business analysis department is to provide overall direction, guidance, and definition of business requirements to effectively support the implementation and development of our product.
What was your typical day like?
My day started with reporting to the office at 9am, attending MoM meetings, on-call meetings with my mentor regarding tasks, completing assigned tasks for each day, completing a work-log and then finishing around 5pm.
An important part of an internship is having a mentor, someone to guide you and show you around. How did your mentor influence you in your time at Adacta?
My mentor definitely played the most significant part throughout my internship. He helped me and guided me all the time during the internship. Also, he was very humble and kind enough to understand whenever I had some schoolwork to do as well that affected my work hours. I really enjoyed being mentored by him.
Maitraiee's mentor Nikola Aleksic is a BA at Business Analysis department at Adacta and he agrees that he had an important role in her experience. It is not only about getting the work done, but you also have to prepare an intern for a business career. Let's see what he noticed during this mentoring opportunity:
As someone who started out in a similar way, as a mentor I understood the needs and responsibilities of Maitraiee Mukherjee. This meant I had to prepare and gradually introduce her to a business career while also having an understanding of her responsibilities as a student, such as lectures and preparation for exams.
The internship program we set up and followed closely enabled her to acquire and advance her knowledge, including technical skills as well as accounting, billing and collection skills which Maitraiee was particularly interested in.
It was equally important to provide her with an insight into the operations of a company, business correspondence and relationships with colleagues, which are no less important and I consider these to be essential skills that are continuously learned and improved.
How would you describe Maitraiees work at Adacta?
During her internship, Maitraiee showed initiative in taking on tasks. She approached her work with dedication and seriousness and was quite independent. Due to her positive attitude towards her work, she was practically an equal member of the team and contributed to the best of her abilities.
Even though this was her first experience in business, I noticed her ability to learn quickly, as well as her communication and time management skills, as she managed to pass her exams while diligently completing her work assignments.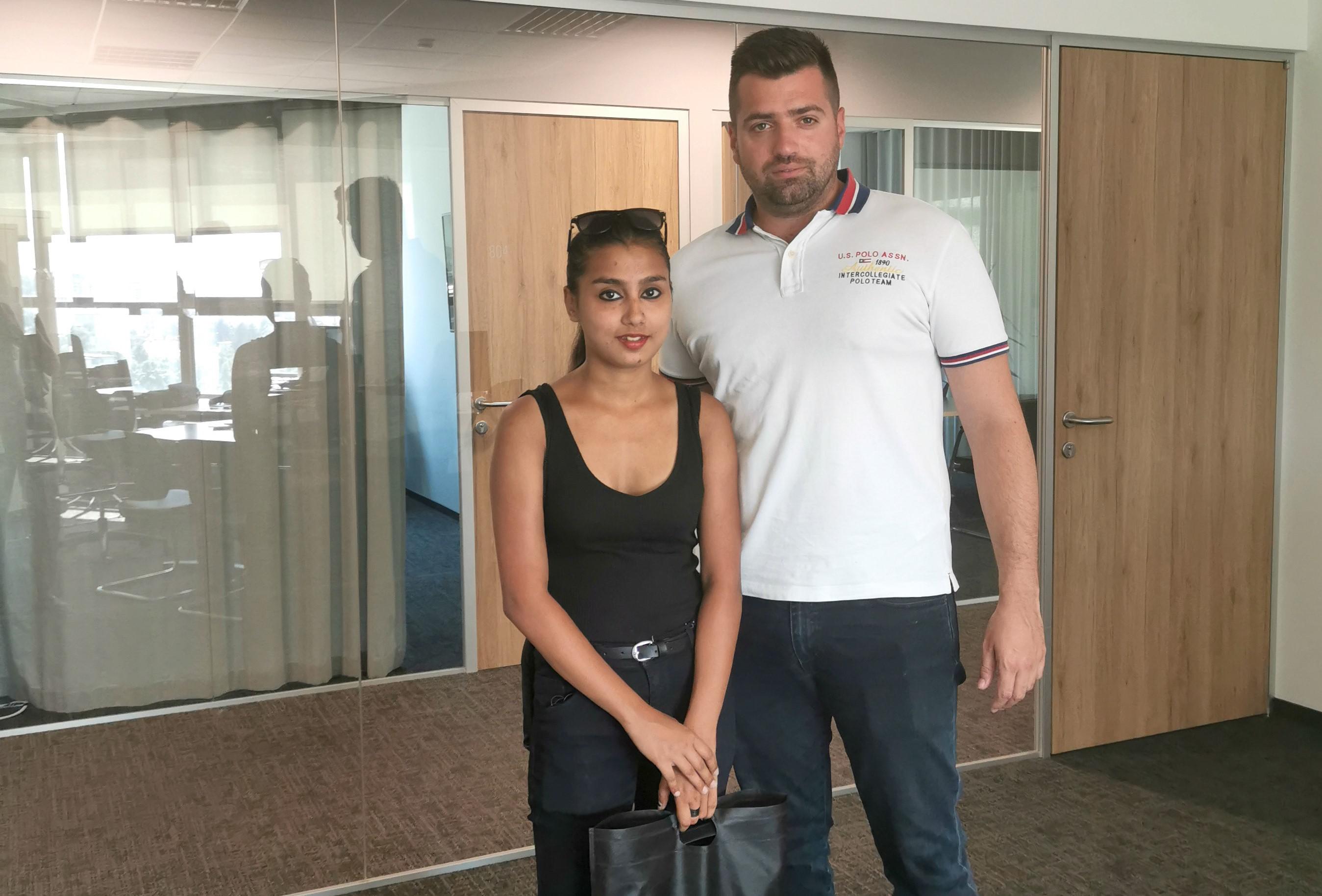 Maitraiee and Boris Bajić - our Chief Product Officer
Maitraiee, how do you think you have changed as a person after this experience?
After this experience, my computing skills definitely improved, but besides that, I gained so much knowledge about the Insurance industry, as I didn't know a lot about it before coming to Adacta.
I also noticed that after working with the team my attitude has changed quite a lot.
In a month, you probably learnt a lot. What is the most valuable thing you learnt?
The most valuable thing that I learnt was the importance and need for a mentor or head of the team for overall monitoring, directing and most importantly leading the whole team to ensure efficiency.
On a scale of 1 to 10, how would you rate your internship?
I would give it a 9. I would absolutely recommend this internship to any other fellow students who would like to work in this industry!
What's next for you?
After graduating next year, I am looking forward to re-joining the company and this time as a full-time or student employee.
After graduation, it is difficult to switch directly to the labour market and follow its requirements. That is why early experience of student work or internships is very significant. In addition, it is important that mentors in the company where you decide to work as an intern are willing to guide you and help you through these processes. At the end, you should also get feedback which helps you develop in the profession you want to succeed in. This is exactly what our interns most often notice and appreciate at Adacta.